Email : andy@ventanasystems.co.uk
Phone : +44 (0) 1722 505 763
Fax : +44 (0) 7092 024 736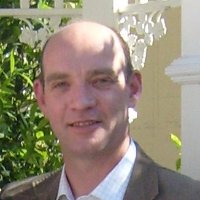 Andrew Hill has been a director/consultant in Ventana Systems UK since 2000. Prior to co-founding Ventana System UK, Andy spent 10 years as a defence analyst, working across a broad spectrum of projects, from manpower recruitment & retention to a complete tri-service analysis of the UK defence equipment requirements.
Whilst with Ventana, Andrew's focus has been within the health & pharmaceutical sector, evaluating demographics of drug utilization trends from national prescription databases, patient flow analysis and international drug pricing strategies.
Andrew delivers Vensim/SD workshops to both commercial and academic organizations to teach others the System Dynamics methodology and advanced application of the Vensim software suite
His systems approach to tackling problems allows him to concentrate on the important & practical issues, and not be side tracked by issues not central to the problem solving requirements.
Specialties:
Vensim, System Dynamics, Business Dynamics, Healthcare Analytics, Pharmaceutical Modelling
Highlights
Developing Business Simulation tools and broad based operational analysis to a range of UK & overseas clients.  Simulations have predominantly been developed using Vensim software.
Business
Transition effects of relocation on corporate efficiency
Manufacturing & Logistics
Distribution Warehouse simulation model for a leading UK logistics company
Manufacturing and retail modelling for global corporation.
Telecommunications
3G Mobile Technology Strategy Simulator interface design & development.
Energy
Natural Gas Supply Demand modelling for multinational oil company
SD modelling of health & safety monitoring on oil exploration platforms
Environment
Modelling Study of the EU Recovery Plan for North Sea Cod
Multispecies fisheries modelling
Pharmaceuticals
Modelling US pharmaceutical usage and disease management.
Global pricing model for pharmaceutical products
Demographic trend modelling of national prescription database
Food
Demand forcasting for global drinks manufacturer
Aerospace
Modelling long-term strategic options for air traffic management
Data management software development for European air traffic economic performance simulation
Health
Patient level Business Intelligence models for healthcare market insights
Military
Excel simulation of future frigate accommodation requirements
Recruitment and human resource management
Manpower modelling of UK Armed Forces
Optimum force mix of UK combat aircraft
Resource tasking of UK Navy surface assets
SD simulation war-game of manoeuvre warfare
UK Navy manpower retention relationships to UK economy
Design & development of a SD model of "coherence" in the battlefield
SD model of air defence penetration and validation study against the Gulf War
General
Provision of System Dynamics (SD) training
Provision of technical advice and quality assurance of simulation models